IF YOU HAVE ELDERLY PARENTS OR RELATIVES WHO ARE ILL, THEN YOU OWE IT TO YOURSELF — AND TO YOUR LOVED ONES — TO WATCH THIS IMPORTANT VIDEO RIGHT NOW. 
Chayim Aruchim knows how frightening it can be when a loved one is sick in the hospital or when family members are dealing with serious end-of-life issues.
When the life of a critically ill relative or elderly loved one is on the line, the people around them end up in uncharted territory. Families are confused and terrified. The lack of direction is frustrating and scary. Nobody knows what questions to ask or what steps to take. 
The dedicated askonim at Chayim Aruchim also know how important it is for seniors and their children to discuss financial and legal issues, and the importance of planning ahead.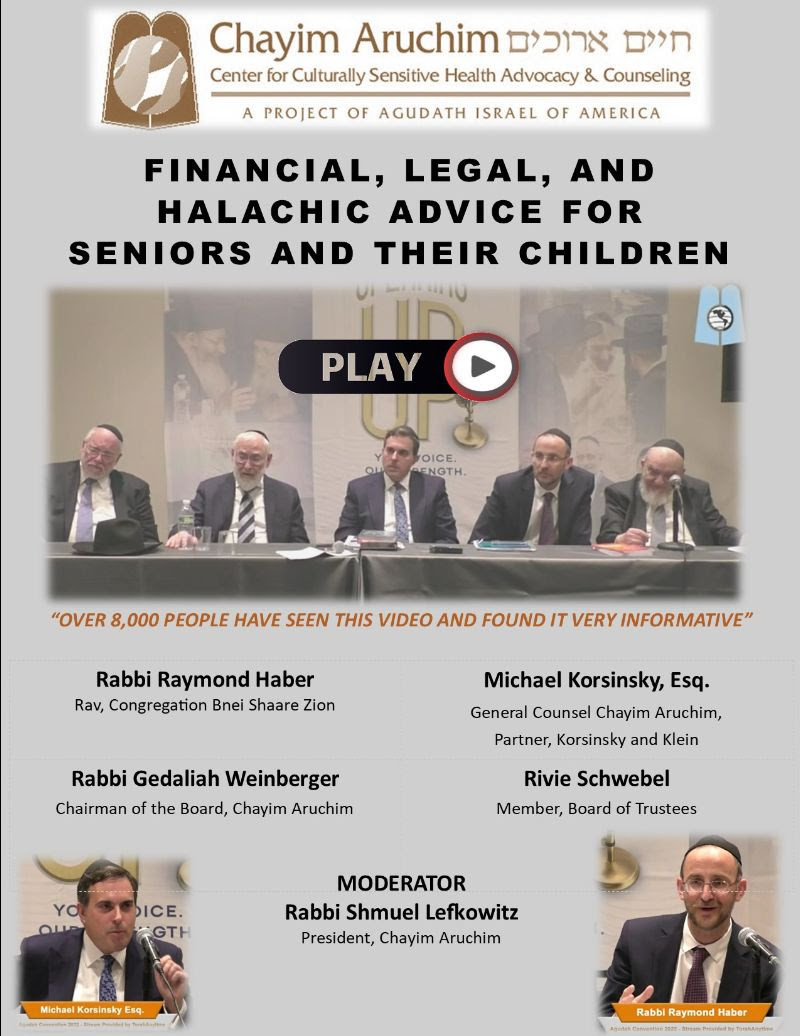 Chayim Aruchim receives thousands of phone calls each year regarding serious end-of-life situations. We work closely with medical providers and family members to prioritize the preservation of life – even when others say there is nothing left to do.
By combining years of halachic, medical, and legal expertise, Chayim Aruchim acts as a trusted anchor of support for families facing tough end-of-life decisions.
If you are dealing with a situation that requires end-of-life advocacy or counseling, call Chayim Aruchim's free 24-hour phone hotline at 718- ARUCHIM (718-278-2446)
or visit www.chayimaruchim.com today.